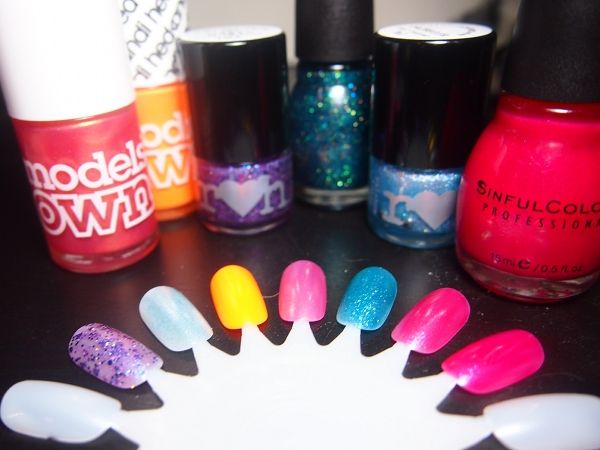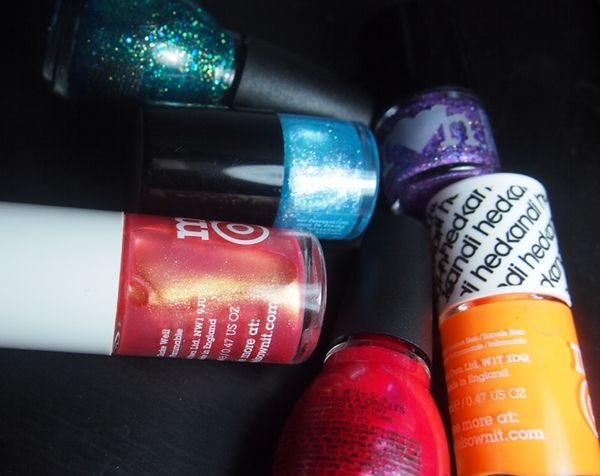 My experience with Copious is a bit mixed. On the bright side I met a wonderful seller who was really sweet and worked with me. On an unfortunate note the site was having some MAJOR issues. My payment wasn't going through (eventually did, as you can see), and the errors resulted in many ONE penny charges, and a few others as well. Other's were also having issues.
I ended up with 2 of each brand, Rainbow Honey, Models Own, and Sinful Colors.
I've already started looking into more Models Own nail polish, and have found a few e-tailers who sell the brand in the states. Because of those wonderful people, I've also started looking at a few more international brands, especially some Australian ones.
From L to R
RH The Element of Magic
RH Celestia
MO Beach Party
MO Tropical Sun
SC Nail Junkie
Julep Frieda (for comparison)
SC Forget Now
I've been wanting Models Own for a while now, they're color selection is amazing. I also had the chance to discover some Rainbow Honey. Love love LOVE their bottles. That is such an odd thing to like about nail polish, but they're so cute! They're two minis, and while I was swatching I noticed now inconvenient the brush is to work. It's rather large considering how small the length of the actual brush is. The colors are worth it though.
I also don't own any Sinful Colors, and those were a surprise that she was going to pick, so I had no idea what I was going to get. I am trying to ignore the Sinful-blogger drama that went on, and just trying to enjoy the colors. When I saw Forget Now I immediately thought about Frieda. Frieda has a bit more of a metallic finish, but the shade is close enough to please me.
Have you tried any brands that are sold exclusively online? I'm finally taking the plunge, and I am hooked!