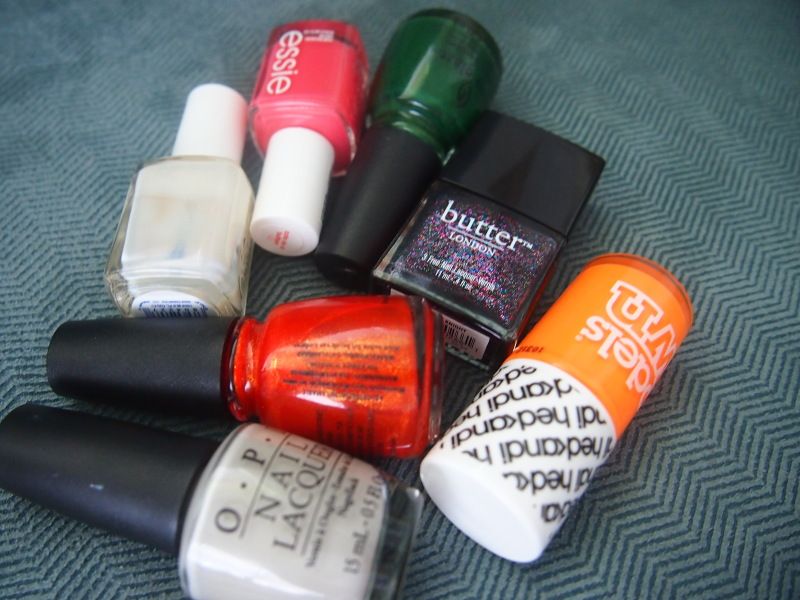 Cute As A Button and Riveting
Goody, day four! Now for this I will be talking about some of my polishes. Some are odd, some are favorites, and there's even a bit of disappointment thrown in there.
1. Essie Cute As A Button - I couldn't choose which toe color I loved the most. They are both so different, so I had to put them both in. CAAB is such a bright color that looks great on everyone's toes, in my opinion.
2. China Glaze Riveting - Another toe favorite. I love the shimmer, and the orange color.
3. butter LONDON The Black Knight - My favorite glitter nail polish. I love the variation of colored glitter, and it really ties in with the name. Beautiful.
4. OPI Skull and Glossbones - My guilty pleasure polish. Everyone thinks it's such an ugly color, but really I love it! I love the way it looks on my nail, the subtlety of the shade.
5. Models Own Beach Party - My favorite recent purchase. I had been lusting over it for MONTHS, and I finally have it.
6. Essie Adore-A-Ball - My most disappointing polish. It's even worse than Case Study. I was so shocked when I realized that my bottle isn't even the right shade. Thank goodness i got it for only a dollar.
7. China Glaze Holly-Day - My special occasion bottle. It's such a rich christmas green that I can't see myself wearing it any other time. It makes me sad, it's a beautiful color.
What are some of your most interesting shades?