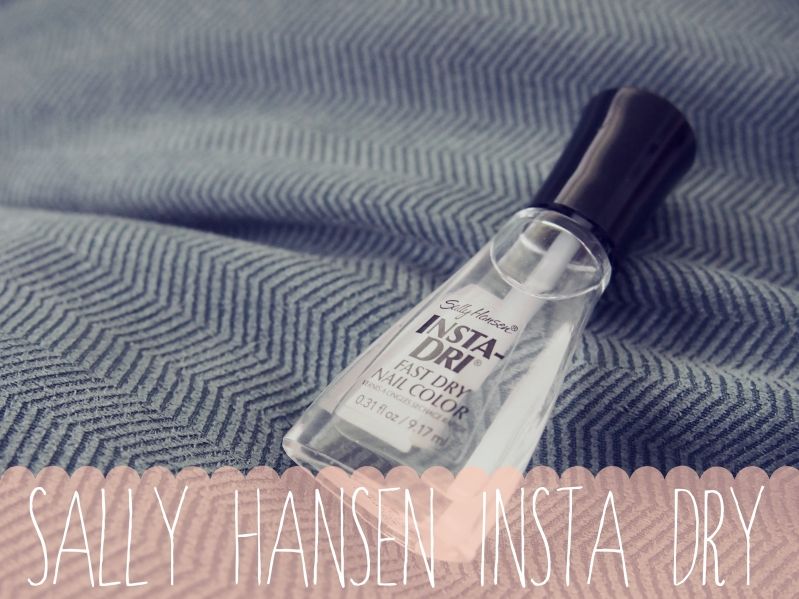 I am still on my quest to find my holy grail top coat. I went into Target hoping to get a new bottle of Revlon Liquid Quick Dry, but they didn't have it so I decided to try out a new top coat. I chose Sally Hanson Insta-Dry. I guess you could say that I had high hopes for this polish. I head so much about how great their top coat is, I couldn't help but want a lot out of this particular top coat.
-

Con

It's not so instant on it's drying. I know what you're saying, "It's not supposed to be instant", and you would be correct. BUT It honestly takes about the same time as a regular top coat did to dry. So no, I would not classify this as a fast drying top coat. I still found myself using my liquid quick dry to speed up the process.
-

Pro

It is long lasting. The first time I used it I noticed that on the fourth day of wear I started to notice minor chipping.
- Pro It has a big brush. You know that classic OPI brush that everyone lusts over? Yeah, that only better! It has curved ends which make it really easy to create a perfect round line around the cuticle.
- Pro Super shiny finish. This polish gives a super shiny and glossy finish when it does finish drying. I would put this in similar fields as Seche Vite, and that's actually saying a lot.
-

Neutral

It is kind of grainy over glitter. If you've tried out a lot of top coats, you know that this isn't uncommon. The top coat just isn't thick enough to smooth out the glitter. It does bring is close. Much better than some other topcoats that I've tried. Not quite as good as Seche Vite.
-

Con

If the final coat is not dry enough, there will be color transfer on the brush. It doesn't effect the paint, oddly, but you will see some transfer. Normally a minute is safe to start adding a quick drying top coat, but I would wait at least 5 minutes before applying Insta-Dry on your nails to be safe.
- Con Bang for your buck. It was about $6, and it only has .31 fl oz. That's kind of sad. At the rate I paint my nails, it wont take me long to go through this one.

Final Thoughts
While this clearly isn't the best top coat out there, it's still a pretty darn good top coat. Ignoring the fast drying part of it, I would say it's one of the better ones that I've tried. If you're looking for a fast drying polish, this one isn't for you.